We are proud of our reputation as a pioneer in sustainable hospitality. Saving energy and using local products and natural materials have been close to our hearts for many years. In the past, we used 30,000 small plastic bottles every year. Now, you will find shampoo, shower gel and body lotion with our trademark verbena fragrance in refillable litre bottles. Together, we can reduce plastic consumption. The same goes for the 20,000 slippers that landed in the bin every year. Today, our guests bring their own or can order high-quality slippers from us at a cost of CHF 5. We also foster the social responsibility of our teams through special training sessions. We are actively committed to Swisstainable, Switzerland Tourism's sustainability programme.
As a leading member of the carbon-saving project initiated by HotellerieSuisse in Canton Graubünden, we are taking part in the energy-saving programme run by the EnAW, the Energy Agency of the Swiss private sector, and work closely with an EnAW coach. We sincerely hope that as our guest you will support our efforts – instead of wondering why we don't serve sea fish, scampi, or tomatoes in winter. We source high-quality seasonal produce directly from the producers – locally wherever possible. That is a win-win situation for everyone, especially for our youngest guests and their future.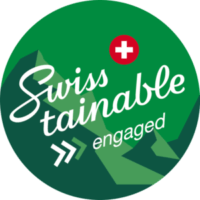 Good News
We are member of the Responsible Hotels of Switzerland, the sustainable hotels of Switzerland.
The hotel group Responsible Hotels of Switzerland unites the over 30 lead establishments of ecological and social sustainability. The hotel cooperation is a showcase for responsible travellers who are considerate of nature and people, but also want to experience enriching and nature-oriented experiences. The cooperation promotes knowledge building and networks across sectors. We are an independent business with a strong character in a beautiful location, with high quality.
Cleanpeak
5 out of 10 guests intend to make their vacation sustainable. However, not even 7% of them act sustainably during their vacation.
That's why we now have CLEANBAG – ONE BAG FOR ALL. ALL FOR MORE CLEANLINESS.
The CLEANBAG sensitizes guests to the issue of alpine waste and at the same time enables them to act sustainably and to be out and about in nature with their eyes wide open.
Further information is available at the reception.